Established in 2013, Trevi Manor, LLC is owned and operated by a mother-daughter team: Pam and Cherie Chauvin.
Pam Chauvin
Pam Chauvin is a life long horse sport enthusiast, though she is not a rider herself! Over the years, she has been a volunteer, horse breeder, owner, groom, competition handler, ground trainer, lesson videographer, and cheering fan. For 15 years, she ran a highly successful miniature horse breeding program with many foals going on to earn championship ribbons. As a retired Registered Nurse, Pam is enjoying the serentiy of Trevi Manor and especially enjoys looking after the barn cats!
---
Cherie Chauvin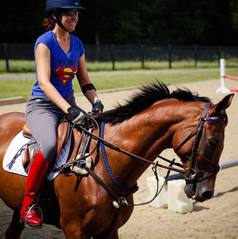 Cherie Chauvin has been an avid equestrian and successful competitor for over 25 years.

​

One Star and Training Level Three Day Events (classic long format)
Preliminary Level Horse Trials
Third Level Dressage
USEA ICP Certified Instructor & Certified XC Course Designer (BN-T)
US Pony Club member for 10 years, through B level
Licensed Maryland Thoroughbred Racing Exercise Rider
Marlborough Horse Trials Co-Organizer & Cross Country Coordinator (2012-Present)
Eventing coaching to competitors through Training Level
Dressage instruction to students through First Level
Instruction to Pony Club students through C3 level
In addition to her equestrian endeavors, Cherie is a Senior Program Officer and Study Director for The National Academies of Sciences, Engineering, and Medicine's Naval Studies Board.
Learn more about Cherie and her Golightly Sport Horses at
www.golightlysporthorses.com
and
www.golightlysporthorses.blogspot.com
---